Paramotoring Training & All You Need to Know
Paramotoring is one of the sports that will make your flying aspirations come to reality. It is nerve-racking, yet it is overwhelmingly and an amazing flying experience. You get to fly and see sights from the skies! 
You might be wondering what paramotoring is? A paramotor, also referred to as a powered paraglider, is a backpack-style motor (ultralight aircraft engine) attached to a paraglider wing. It gives thrust to take off and fly using a paraglider. Paramotoring is therefore flying this powered paraglider. 
Paramotoring is accessible and relatively safe. It is a form of powered flight that is easy to master that cannot be compared with other forms of aviation. Unlike paragliders which you must be on the sloppy ground to launch, a paramotor can be launched from an open flat field, as long as you have permission. Good thing also, you don't have to wait for the wind to blow. 
So if you are an aspiring paramotor pilot, all you need is paramotor equipment, training experience, and the courage to fly. 
Do you need a Pilot's License to Fly a Paramotor?
No, you do not need a pilot's license to fly a paramotor in the US. According to the United States Powered Paragliding Association (USPPA), paramotoring is self-regulated, and you are not required to be a certified pilot. However, USPPA strongly recommends proper training for safe flying to reduce the dangerous risks. 
On the other hand, before you start paramotoring, you should make sure you know the laws that regulate the sport. Since Paramotors operate in the airspace, they are classified as Ultralights. They, therefore, fall under the ultralights laws and regulations in the Federal Aviation Regulations (FAR), Part 103. 
In other countries, laws and regulations on paramotors differ. However, in most countries, just like the US, you do not need to be licensed as a pilot to fly a powered paraglider. All you need is proper training and must obey the airspace regulations directed by your country's authorities. Remember following these laws is to ensure the safety of everyone and efficiency in the entire airspace industry. 
Can you Fly a Paramotor Without Training?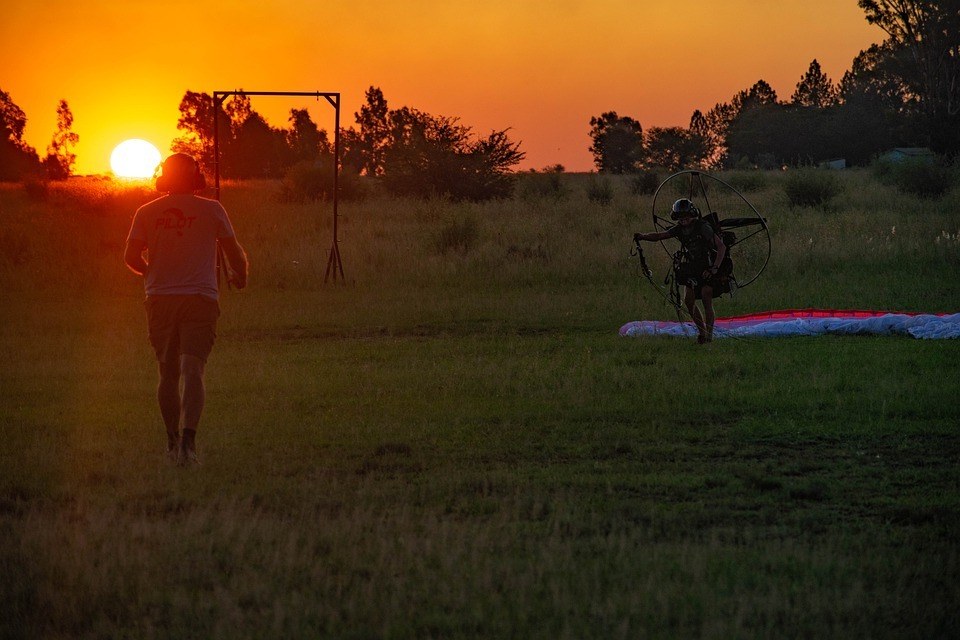 No, you cannot fly without the knowledge of paramotor flights. Although paramotoring is unregulated, most pilots go through formal training at a certified Paramotor training school, where they also acquire a good understanding of rules and regulations in paramotoring. 
In most training, you will first need to learn how to paraglide. This is simply learning how to fly the paraglider wing without the motor. However, You do not need to know paragliding first before going on a Paramotoring course. With a great instructor, you can learn and master paramotoring from scratch. 
In training, you will also learn how to assemble and dismantle the paramotor equipment. This will ease the transport. You will learn how to start the engine, buckle up, control the throttle, navigation, and do the essential maintenance. And most importantly, you will be trained on safety and how to take precautions. 
Importance of Paramotor Training
The following are the reasons why you should seek training before you start paramotoring: 
Safety
Powered paragliding is an extreme sport, and just like other sports of that kind, it can be dangerous. The risks of unsafe paramotoring can highly lead to bad injuries or death. That is why to fly a paramotor; you have to undergo proper training and tons of guided practices. Therefore, training is essential to ensure safety as you enjoy the sport. 
Fight your Fears
Before you decide to become a paramotor pilot, you have to try it first and determine if you like it or not. As an extreme sport, not everyone will enjoy the adrenaline thrust. However, you can always overcome these fears by training and understanding the sport. With more guided practices by your instructor, the fears will go away. 
Equipment Knowledge
The possibility of buying the wrong paramotor equipment when you are not trained is very high. Undergoing training will give you the proper knowledge you need to acquire your paramotor. There are so many types of paramotor equipment in the market that are not all for you. By the end of the exercise, you will have already trained with paramotors, which will give you insight into what to look for. 
Enough Experience
By the time you finish the training, you will have done many flights both guided and by yourself. You will go through many field practices with an experienced instructor, and you will become a pro. You will also go through the theory of flights, air law, and basic meteorology. So it is vital to go through training so that you can gain the needed experience. 
Can you Fly a Powered Paraglider Over a City?
Since paramotoring is unregulated in many countries, you have the freedom to fly it anywhere. However, you will need to adhere to the airspace laws of your country.  
However, According to Federal Aviation Regulations Part 103, Ultralights vehicles should not be operated over any congested areas of a city, town, settlement, or over any open-air assembly of persons. It is therefore recommended that you fly your paramotor in an open place with no people or property. 
Can you Fly a Paramotor at Night?
FAR Part 103 laws prohibit operating an ultralight vehicle at night. They should only be used between hours of sunrise and sunset. However, you can fly your promotor 30minutes before sunrise or after sunset with enough visible light, and it should be in uncontrolled airspace. 
Can you Land a Paramotor Anywhere?
You can only launch and land your paramotor in places that you have permission to. It is important to get permission from the place you intend to land. 
According to FAR laws, part 103, states that an ultralight vehicle should not be operated in prohibited or restricted areas unless you have permission from the using or controlling agency.
There are other places that you won't require permission to land. It is essential to check if it is legal to land there or whether the airspace is restricted. Remember always to maintain the altitude 500 feet rule from people, animals, and property. 
How Fast Can You Go on a Paramotor?
In good conditions with no wind, Most paramotors fly averagely around the speed of 25-45 MPH. However, just like vehicles, paramotors vary in speed. The speed is determined by factors like the size and performance of your glider, engine power, wind speed, weight, and even the pilot. 
More advanced paramotors can reach up to 50 mph. However, the FAR laws on ultralights limit the top speed to no more than 55 knots, or 63.29 mph, at full power in level flight. 
It is important to note that a paramotor can fly for a range of between 2 and 3 hours. This is dependent on factors such as paramotor performance, weight, fuel, weather, and flying style. This means in good conditions you can cover more kilometers. 
What is The Best Paramotor to Buy?
When choosing a paramotor, it is crucial to consider several factors to get the one that fits you. One of the main factors determining what kind of paramotor you need is the type of flying that appeals to you. Whether it's Cross country, Fun flying, Pilon racing (Slalom), Low level, or Thermalling, you will need an appropriate paramotor to enjoy flying. 
Some of the factors to consider include: 
How much thrust you will need.

Electric or manual start

The weight of the paramotor.

Are Spare parts from the manufacturer available.

Is the paramotor transportable?

The manufacturer
According to Planet Paramotors, some of the known best paramotors are Parajet Maverick, Air Conception, Scout, Bailey V5, and Miniplane ABM.