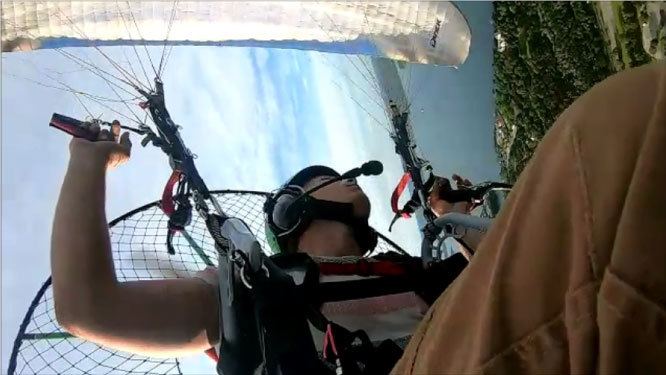 How to choose your first paramotor wing:
When trying to decide on what paraglider you want to buy, the options can seem endless and daunting to a beginner. So here is a simple guide for deciding on a wing.
(Note: this guide is for the wing only, we will discuss motors and accessories in other guides.)
​

The first thing to consider before buying gear is starting a training course. Your instructors will help guide you through the process and make sure everything is sized correctly for your weight and skill level. The school you train at is also where you usually buy Gear.
Texas Paramotor Training is a dealer for 4 different wing manufacturers and we have over 5 different paramotor brands to choose from!
Texas Paramotor is a proud Dealer For the following wing manufacturers:
Apco Aviation
Gin
Dudek
Ozone
Velocity
How do I pick the right Brand for me?
There is no wrong choice, as long as you get a certified beginner glider in your weight range. No matter the brand, they all fly wonderfully and you will be happy with your choice.
Many people purchase the wing model they trained with due to the fact that they are already comfortable with it.​
How do I get the right size for me?
Every wing has a certified weight range that the glider has been tested for. You can always find this information in the manual of your wing. This weight is called your "all up" weight and includes you, and the fully fueled paramotor.
Your instructor should help you with ordering the right size paraglider for your weight.
Too heavy
If you are too heavily loaded on your glider, you will experience much faster takeoff/landing speeds, and your glider will be more responsive in turns. It could also be very dynamic during a collapse due to not being tested at that weight in the certification process.
Too light
If you are too lightly loaded on your wing you will have much slower speeds for takeoff and landing, and it will be less responsive in turns.
One danger is in having a much lower airspeed, if wind conditions pick up while in the air, you may not have the penetration to move forward. You will also be more susceptible to collapses due to there being less pressure on the lightly loaded canopy.
What are these certifications? And what do they mean?
Paragliders have been tested for years by several organizations to help insure they are reasonably safe for the intended skill level. Even though most testing is done without a motor, it's beneficial to have an idea how your prospective wing will behave when things go awry. It's a valuable starting point.
Below is a chart of all of the organizations and what their ratings mean.
The main Certification organization that we recognize at Texas Paramotor Training is the EN standard.
EN Certification (A, B, C, D)
Courtesy European Union. Test results from the primary testing facility can be found here
| | | |
| --- | --- | --- |
| # | Flight Characteristics | Pilot Skills Required |
| A | Paragliders with maximum passive safety and extremely forgiving flying characteristics. Gliders with good resistance to departures from normal flight. | Designed for all pilots including pilots under all levels of training. |
| B | Paragliders with good passive safety and forgiving flying characteristics. Gliders with some resistance to departures from normal flight. | Designed for all pilots including pilots under all levels of training. |
| C | Paragliders with moderate passive safety and with potentially dynamic reactions to turbulence and pilot errors. Recovery to normal flight may require precise pilot input. | Designed for pilots familiar with recovery techniques, who fly actively and regularly, and understand the implications of flying a glider with reduced passive safety. |
| D | Paragliders with demanding flying characteristics and potentially violent reactions to turbulence and pilot errors. Recovery to normal flight requires precise pilot input. | Designed for pilots well practiced in recovery techniques, who fly very actively, have significant experience of flying in turbulent conditions, and who accept the implications of flying such a wing. |
It is always important to fly within your skill range on a certified glider.
In Conclusion:
Look to your instructor for guidance! They should be your main resource for information regarding gear, after all you are buying it from them!
Want to learn how to fly?
We have new classes starting every month of the year! With course schedules to fit anyone from weekend warriors to someone who wants to knock it all out in 10 days.
Give us a call and we can schedule your training! We only offer a limited number of class seats per month, which can book up in advance. To reserve your class it is only a 25% deposit to lock in your training dates!
Call now and we can make sure we have a spot for you!
I look forward to helping you get in the air!
-Ryan Glowka
512-545-6280
www.TexasParamotorTraining.com
---