How To Experience Paramotor Gliding with Your Girlfriend
Do you and your girlfriend dream about seeing the world from above? Just want to float freely with only the sound of the wind hitting your face?
Paragliding is definitely an adventure you should try. It's thrilling, exhilarating, and indeed an experience you will want to do repeatedly with the love of your life.
Back when the sport started, most people dismissed it as one of the many dangerous activities that adrenaline junkies like to do. But it's proven to be one of the safest air sports today. So safe that you don't actually need a license to fly.
So, what exactly is paramotor gliding?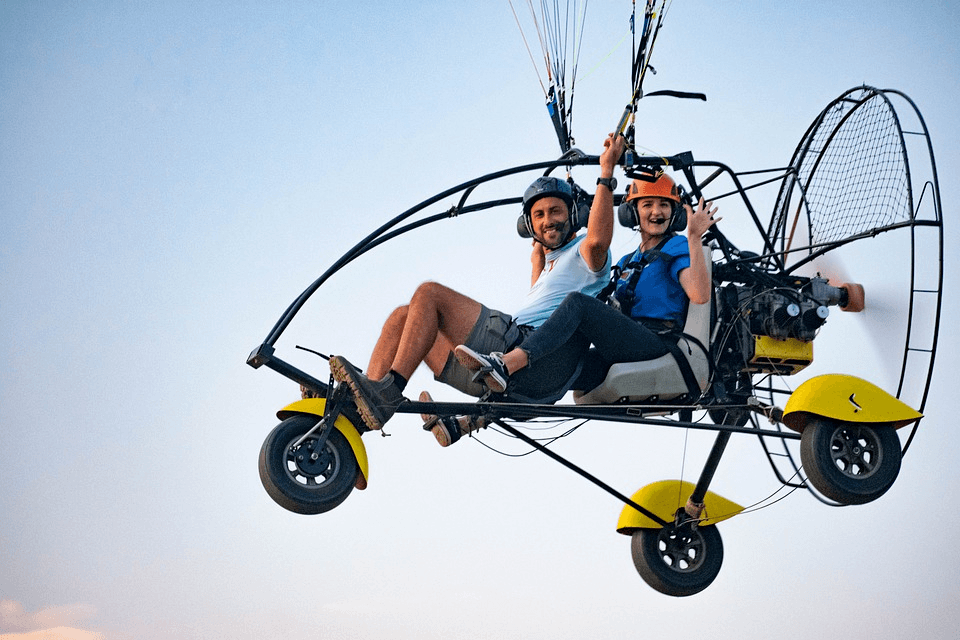 A paramotor glider, also known as a paramotor or powered paraglider, is a simple aircraft composed of a wide canopy similar to a parachute, a harness, and a large fan-like propeller worn like a backpack. Paramotors are simply paragliders with the range and mobility of powered flights.
Paramotors are easy to fly- you launch on foot, even on a flat surface, and have two controls on either side to steer the paraglider. Most importantly, it's a fun activity that you can enjoy with your partner.
How do you get started?
Book Your First Tandem Paramotor Flight
Flying a paramotor, while easy and pretty safe, does need some training. You have to know how to launch, control, and land it safely, just like any other flight.
That doesn't mean that you and your girlfriend can't experience the thrilling sport right now if you want to. Tandem paragliding is an excellent way to experience flying to decide whether you would like to take the next step of enrolling for training. It is where you fly a paraglider with an instructor. You sit in front as the passenger and the pilot behind as your instructor.
Tandem paragliding is used for training, but that doesn't mean you can have fun while at it. Of course, you will hop on different paragliders as tandem paragliding is intended for two people. But you can enjoy the experience together.
Once you've taken your first trip and you both like the experience, you can think about learning to paraglide on your own.
Sign Up for Powered Paragliding with a Great Instructor 
After your tandem flight, you're both ready to sign up for training to become paramotor pilots. Training will help you learn how to operate a paramotor on your own, as well as the general flight rules you should follow to be safe and comply with the law.
Training is relatively short, and you'll be enjoying your time with your girlfriend up in the sky above a breathtaking beach, park, or field in no time. The important thing is to identify a reputable school with qualified and experienced instructors, as you will save both money and time.
One such school is Texas Paramotor. The school is first of all certified by United States Powered Paragliding Association. With intensive training in the school, you'll be flying in 8-12 days.
Buy Your Own Equipment to Start Paragliding with Your Girlfriend 
Before you can enjoy a paragliding experience with your girl, you need to purchase your set of paramotor gliding equipment. Since you don't ideally know what to look for in a paramotor kit, be sure to talk to your instructors as they are better placed to direct you on the best kit in the market.
That said, you'll at least have to buy a paraglider, reserve, and harness. A helmet that meets the specified safety standards is also a must-have.
The amount you'll pay for your gear will depend on whether your kit is new or second-hand. If you opt for the latter, it's important to do some due diligence by checking if the gear has a recent service record, which essentially indicates its airworthiness.
Purchasing the right kit will go a long way in determining if you'll have a long-flying career or abandoning the sport altogether.
Can't afford to buy your kit at its current going price?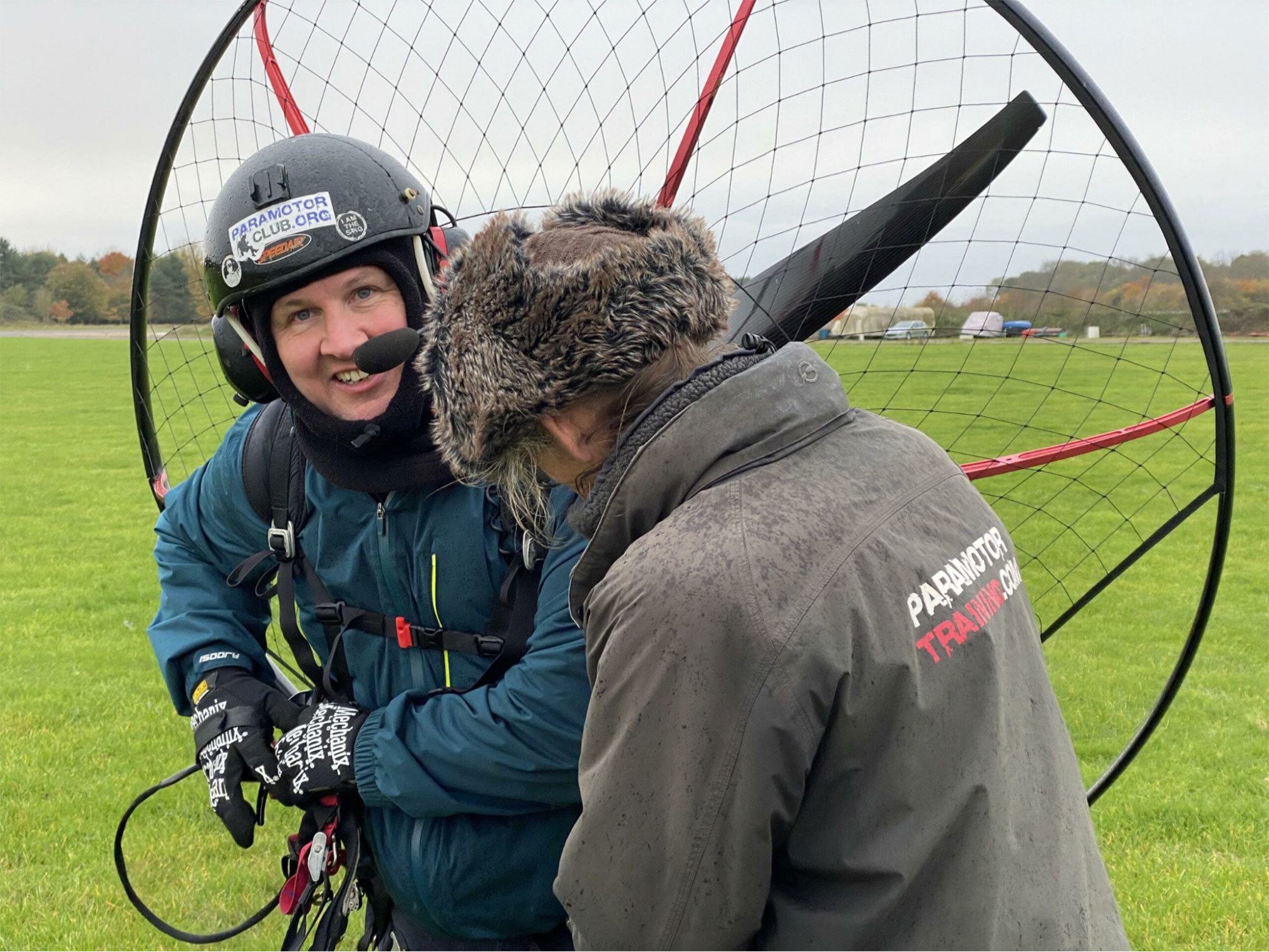 There is good news. You can always rent out your kit from a trusted dealer. As such, the fact that you do not have enough money to buy your equipment should never keep you out from having a fantastic paragliding experience with your girlfriend.
Be sure to compare different offers to find a kit rental that falls well within your budget.
Connect with Other Paragliders to Enhance Your Progress and Experiences
The best way to hone your paragliding skills is to connect with other paramotor gliders, whether beginners or experienced. This means you'll need to join a club where you can interact and share ideas with other pilots.
Paragliding clubs are always an excellent place to get information that will help enhance your paragliding capabilities. To get the most out of these groups, go out of your way to make as many friends as possible, especially if they have years of experience and knowledge that can help your progress.
Making friends can come in quite handy when it comes to learning about the best paragliding sites, the best days and times to fly, and even paragliding events in your area. After all, your paragliding friends will always ensure that you get where you are needed for any training and learning sessions.
And not to forget, you can always attend club meetings to connect with pilots within your area, as well as use paragliding coaches to learn more about paragliding.
Ready to Have the Best Paragliding Experience with Your Girl? Start Your Training Today!
If you are thinking of paragliding with your girlfriend, you undoubtedly wish for nothing short of a fantastic, unforgettable experience. Book a thrilling tandem flight with Texas Paramotor to experience your first feel off the ground. From there, experienced paramotor instructors will direct you on how to start your training. Texas Paramount is about equipping you with the right skills to help you make memorable and safe flying experiences.
Ready to fly with your girlfriend on a paramotor glider? Call Ryan for full training or equipment purchase on 512-545-6280.